Commercial access control systems are a great protection for both small and large businesses in Mooresville.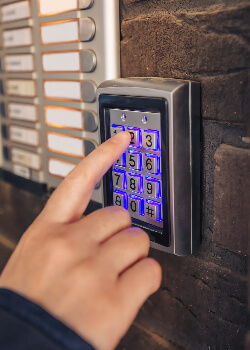 Do you want to better protect your business, your employees, your products, and your in-house assets?  Commercial access control systems are a great way to enhance the way you protect your business' operations and assets, and they can help you and your employees out in sticky situations.
Commercial access control systems allow you to give access to specific employees at specific times. You can control who is getting into your location and when. This eliminates the need for key-cards that can get lost or left at home. You can also allow access remotely, should the need arise. Commercial access control systems also allow to you monitor and track who is accessing your building and when. This system security feature can provide you with greater peace of mind knowing that you will always know if someone is accessing the building during off-hours when they should not.  It is also easy for you to reset the access codes so that a formerly employed worker will not be able to gain unwarranted access in the future.
An access control system is not only a way to make life simpler for you and your employees, but it is also a security measure to protect employees.  If the need ever arises, you will have the ability to put the building on lockdown to keep any dangerous persons out.
Commercial access control systems are a great way to help your business in Mooresville North Carolina function more effectively and safely. Call us at Safe N Sound Inc. today to hear more about our affordable options and which system is best suited for your business needs.
---
At Safe N Sound Inc., we install commercial access control systems in Mooresville, Lake Norman, Denver, Huntersville, Davidson, Cornelius, Charlotte, and Hickory, North Carolina.