Do you need help choosing between access control systems for your business in Lake Norman? You've come to the right place.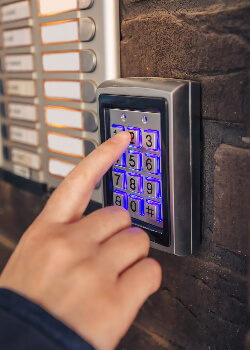 If you are looking at access control systems for your business in Lake Norman, North Carolina, you are probably already aware of many of the benefits a system like this can give to you as a business owner. For instance, you can better control the comings and goings of your employees, delivery men and more. You also have a record of exactly when different people accessed your building., and you can also quickly adjust most access control systems, allowing you to immediately block disgruntled employees or others who should no longer have access to your building or sensitive areas of your building.
Another advantage of having access control systems is the ability to lock down your building quickly in case of an emergency. You hope you never have to use this feature, but you will rest easier knowing that you have the option if the need arises. This way, you can keep your employees and your business investments safer.
If you want to learn more about access control systems in the Lake Norman area, contact us at Safe N Sound Inc. We are a licensed and family owned and operated local business. Our owner has direct contact with all our clients and has 30 years of experience in the security industry. We serve a variety of commercial clients, from small daycares to large restaurants and more. We also have 24-hour alarm monitoring service available.
Contact us today to learn more about our access control systems. We are happy to provide a free consultation at your business, and we can even design a solution for you, configure the system, and support you during its use.
---
At Safe N Sound Inc., we install access control systems in Lake Norman, Mooresville, Denver, Huntersville, Davidson, Cornelius, Charlotte, and Hickory, North Carolina.